¡Bellerííííííííííííííííííííííííííííííííííííííííínnnn!!!!!!!!!
Holy ecstatic orgiastic surges of gloriousness, Batman. How many times has a player been abused so thoroughly by his opposite only to end up the conquering hero? Time and time again, it seemed, Douglas Costa would unleash some filthy abuse on our still wet-behind-the-ears right-back, and it was looking increasingly likely that, at some point, Costa would hit pay-dirt. It was only a matter of time. Even after Giroud had scuffed some kind of "header" past Neuer, it was still looking like Bayern would find an equaliser, most likely down our right flank. Then, in the extra time that Bayern's men had bayed for so lustily, Bellerín pounced. In doing so, he upended the Bavarian behemoths and staked his claim to being—pardon the hyperbole—the best right-back in the Prem.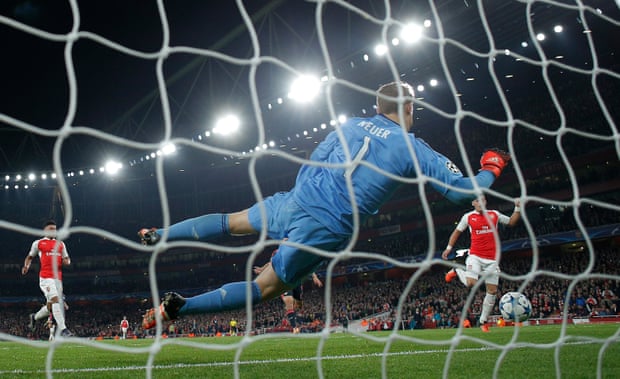 To bring ourselves back down to Earth for a moment—
DID YOU SEE BELLERÍN'S RUN? The kid saw the pass from behind midfield and stole that shite like his life depended on it, poked it past Alcántara and galloped down the wing like Titi himself, four touches, FOUR
TOUCHES
on the ball and he covered fifty yards like it was nothing, full-speed ahead, and
—realise that the result, while encouraging, is diminished somewhat by Olympiacos's win in Zagreb, leaving us still adrift at the bottom of Group F with three matches left—
slalomed into the box, took one look up to see Özil, and chipped a loverly little cross into the box for Özil to volley home. 2-0 to the Arsenal! Bellerín is the best right back in the Prem, the best right back in Europe...
Okay. Let's all take a deep breath. That
was
a scintillating sequence, no doubt about it. Bellerín showed every ounce of the pace that has made him one of the Prem's best right-backs (we'll revisit his actual position later. We'll leave it at "top five" for now). Deep breath taken? Good. We got a fantastic result, handing Bayern its first loss of the current campaign. Even if they came in a bit complacent after thrashing Dinamo and Olympiacos, they did field a full-strength XI but failed to pierce us. While this does little damage to their onslaught, it gives us a significant boost going forward.
Uncharacteristically, we showed impressive defensive organisation and grit, turning aside an offense that had scored 25 goals in its previous seven outings. If we could just keep delivering that kind of tenacity on a weekly basis, well, we'd win the Prem. Our defense was stalwart, even in the face of an impressive attack that commanded 75% possession and unleashed 21 shots. While it's true that Čech had to come up with a few highlight-worthy saves, it's also true that we kept a clean-sheet against one of Europe's most-potent attacks for the first time since May (the feat would sound a
lot
more impressive but for Bayern's completely mailing it in for the last few weeks of the 2014-15 season).
We've now won three on the bounce, scoring eight goals while keeping three clean sheets. If we can continue to deliver this kind of performance on a regular basis—and that is admittedly a bit "if"—we'll have no trouble advancing in the Champions League or challenging in the Prem. Much as I hate to admit, the win over Tottenham in the League Cup may serve as a turning point. Prior to that match, we had scored just six goals in in seven matches while conceding eight. Since that match, we've scored 17 in six matches while conceding just six, keeping those aforementioned three clean sheets. The only current blip on the radar was the 2-3 loss to Olympiacos.
We still have our work cut out for us, of course, all the more so after Olympiacos escaped with an 0-1 win in Zagreb. They've now won in London and in Zagreb and have a bit of an edge on us. Still, we have to feel increasingly confident—we're scoring goals in bunches and playing some stingey defense to boot. If we can sustain this kind of form, well, we'll progress to the knockout stage and send a clear message to all of our rivals: Arsenal are
not
to be trifled with.