Well, that didn't go according to plan. We were supposed to let Tottenham have this one, the better to let them squabble with lower-tier clubs Bournemouth, Middlesbrough, or Liverpool. Instead, we're through to the round of 16, no thanks to Flamini's antics. Leave it to him to go rogue on an evening when, despite the intensity of a North London Derby at White Hart Lane, letting the baby have its bottle could have been the order of the day. I should have known something was up when I started the XI Arsène named. Nary an Academy player to be seen, with only Iwobi and Macey on the bench. Was Arsène trying to win this one? That's when I noticed who'd be in the defensive midfield. That's when it started to make sense. Briefly.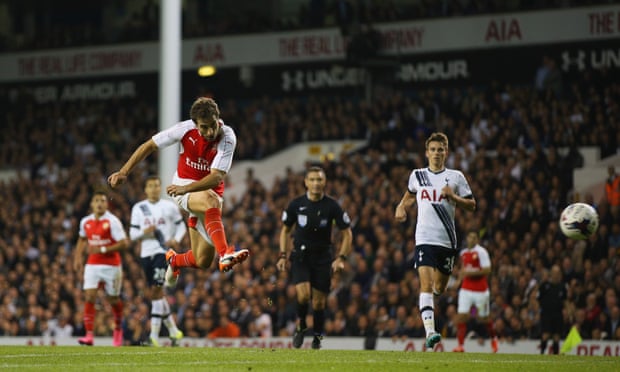 After all, the Flamteta is not known to inspire confidence, so surely pairing the two was Arsène's way of not so subtly throwing the match, as even toothless Tot'n'um would find a way through. This would not come to pass. Heck, when you can't overrun Arteta and Flamini, you get what you get. Now, it's true that Tottenham had a chance or two, none better than in the 65th minute when Harry Kane did his level best to one-up Giroud on awkward half-bicycle kicks only to see Gibbs
just
barely clear it off the line.
Still, the story of the night has to be Flamini's utter failure to play to type. He opened the scoring in a fashion altogether unexpected from the Flim-Flam, darting into the box to pounce on a rebound spilled by Vorm from a sharp shot from Oxlade-Chamberlain, and smashing into the roof of the net. Despite my surprise, there's some sense in this—who else on the pitch would know and feel the passion of a North London Derby better than Flamini?
The lead, though, felt flimsy as Tottenham did create a few chances, and this is when Flamini reverted to type, delivering a sharp hip-check to Danny Rose's shoulder—that's right. Flamini's hip struck Rose on the shoulder. For a bit more cheek, Flamini was completely unaware of the ball, which landed several seconds after the collision.
Ahhh
, I thought to myself,
we'll be down to ten men for the third match in a row, and Tottenham will go through
.
Yep. Shortly after halftime, things started to go all Tottenham's way. A great shot from Eriksen, which Ospina saved but straight to Kane's feet. Kane nearly scored but was ruled offside. Minutes later, Tottenham scored a most Tottenhamesque kind of goal when Chadli tried to thread a cross to Kane (who was well-marked by Mertesacker) only for Chambers to deflect it past Ospina, who would have had it safely in hand. Own goals, we hardly knew ye. Ten minutes on, and Gibbs delivers that goal-line clearance. Soon enough, it seemed, Tottenham would find that second goal.
Showing signs of desperation unbefitting the situation, Arsène brought on Alexis as if we were chasing a game. I felt it was in poor form, especially when I would preferred to see Alexis safely and comfortably rooted to the bench. Why not send on Iwobi and Macey?
I guess I'm supposed to mention something about lightning never striking twice, but I'm not gonna do it. Still, it's hard to resist on a night when Flamini scored two goals, the second more stunning than the first as he timed his run perfectly in order to volley a moon-shot deflection of an Alexis pass (presumably intended for Oxlade-Chamberlain). Flamini's volley was about as well-struck as it could have been, and that would be the difference. Stranger things have happened and will probably do so again.
So we're through to the round of 16 and will travel to Hillsborough to face Sheffield Wednesday on a date to be decided later. Alright, then. Our campaign for a quadruple proceeds apace.
Sorry, Spuds. I did what I could to help ease your passage. Try not to take it too hard.